Introducing our two new apprentices Katerina and Megan
Insight
Published on 08 March 2021
In January, we were delighted to appoint two female apprentices to our team in the Isle of Man.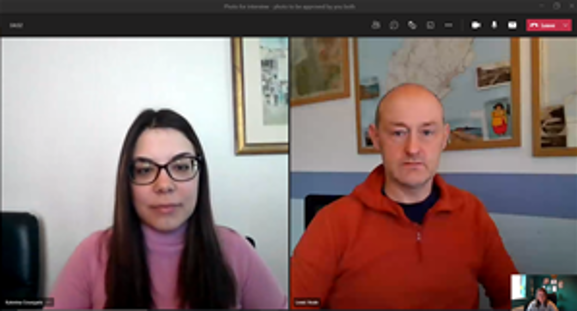 (Katerina with mentor Lewis)
Megan Byrne (MB) joins as an Apprentice Support Analyst and Katerina Gourgaris (KG) as an Apprentice Developer.  They are part of the 'Digital Apprenticeship Scheme' and spend 4 ½ days working for PDMS and ½ a day at UCM working towards Level 4 Certificate BTEC in computing.
Tell me a little more about yourself and your background.
MG: I'm Manx born and bred; my background has always been in retail which I worked in for several years. After I'd done my GCSE's, I went to college and did a Level 3 extended diploma in business and an HND in Business from UCM. My passion from a young age has been technology, we always had the latest PlayStation when I was growing up and I used to love taking things apart and looking at how things were made. 
Before the Digital Apprenticeship Scheme, I had found it challenging to make the transition from retail to office work as I didn't have any office experience. I am a big advocate of continuous learning and am always doing something in my own time including studying basic graphic design and project management. 
KG: I'm from Patras in Greece and I heard about the Isle of Man when my partner moved here for work over a year ago. After finishing school at 18, I worked in customer support for serval years before deciding to attend university. I'm enjoying my time in the Isle of Man and especially living by the sea but I've not yet got used to the cold!
I studied Maths at Patras University and volunteered as a Maths tutor. My degree specialised in Computational Mathematics which gave me some experience in software and coding languages. I'm keen to learn as much as possible – from both my studies and from my colleagues at PDMS.
Explain more about your role at PDMS:
MB: It's early days for me as I am still being trained but I will be the first point of contact for clients (alongside the rest of the support team). We are responsible for investigating and recreating issues raised by our clients, exploring if we can fix it or if it needs to be passed onto our developers. We also test fixes and write test plans to ensure that all possible sources that could have been affected by a fix have been checked over.
KG: I'm also still training but I'm getting involved in lots of different projects. I am involved in planning sessions for new features and new developments for existing projects and have development tasks assigned to me. As a Developer, we work closely with the Analysts and Project Managers to understand client requirements and how it fits into the project schedule.
Although I've only worked at PDMS for two months, I've been trusted to input on client projects and the team is more than happy to answer any questions I have.
How did you find out about the scheme?
MB: I started exploring different career options as I was keen to leave retail – this was when I found out about the Digital Apprenticeship Scheme. I attended the 'speed interview' evening, where I met Lewis and Chris – who confirmed that my research into PDMS was correct - it was a great company and that the people there were my kind of people. They made me feel that I really wanted to work at PDMS.  
The process was very quick, from hearing about the scheme to attending the interview, it took about six weeks. And then I started at PDMS in January.
KG: I moved to the Island on 2nd November, while in my isolation period I found out about the Digital Apprenticeship Scheme, which offers 4 ½ days work and ½ day at UCM. I had a really good feeling about PDMS and the apprenticeship opportunity after I met Chris and Lewis at the 'speed interview' event.         
What are your career goals?
 KG: One day I would like to be a Solution Architect, but I know that you need a lot of knowledge and experience in software development before moving into this role. The reason being a Solution Architect appeals to me is it allows you to be creative; exploring projects and project needs before designing a solution to solve the problem.
MB:  Over the years I've thought about lots of things including being a lawyer! My love of technology has always been there – and it's an area which I really enjoy working in. I love problem-solving and it's something I'm keen to do more of well into the future.
How are you finding your time at PDMS so far?
 KG: Our first week at PDMS was in lockdown, so we were onboarded remotely – everyone made us feel welcome and helped provide all the equipment we need. I'm really enjoying my time at PDMS – it's been great coming into the office (before the Island went into lockdown again) and I have a lot of fun in my role and the time flies by (thanks to Lewis and Isaac). 
I attended my first Foundations Bootcamp – which is a technology platform we used for some of our clients. It was great to attend that and learn more about PDMS'software solutions.
MB: It feels like I've always worked here. In some companies, it's tiresome being trained but I've not felt that at all. Everyone has been generous with their time and more than happy to help me out. I have loved being buddied with Leigh too.
What is it like being a female in tech?
KG: It can feel a little intimidating, especially as the only female in the team and in a male dominant industry however, everyone has been very kind and patient with me. I enjoy my work and I'm keen to show females that they should consider software development as a career – we have so much to give!
MB: I'm slowly seeing a change in gender stereotypes – you now see professional female gamers whereas in the past it wasn't something you saw a lot of.
What would you say to other females considering a career in technology?
KG: Go for it! Women should apply for jobs in sectors that historically have been male-dominated! We should show girls from a young age that they can achieve anything they want to including gaming or coding.
I really want to inspire young women to believe that they can pursue any career and show them they can succeed in the technology field.
MB: I've never felt any pressure to do anything or to conform to a particular stereotype. To me, I've never felt or seen technology to be 'male' but my parents brought me and my sisters up around the latest technology and believing we could do anything!