We live and breathe technology solutions. Always have and always will.
Our roots date back to 1993 with an office of two in the Isle of Man. Back then, when phones were phones and most screens were green, PDMS was very much focused on helping organisations make the most of their information assets. Our aim was to get them out of the mainframe onto the PC, with its power to process and manipulate data on the desktop. 
We very quickly realised that the data is only half of the story. The real prize was to combine business understanding and software engineering excellence to create sustainable value for our customers. And with the growth of the internet, we saw very early the power to liberate business processes from the corporate network and deliver them to any device, anywhere. 
The systems we developed from then on were all web based – both systems for businesses and systems for their customers. Websites have always been more than digital brochures for us. Fast forward by a quarter of a century and we now have an evolving portfolio of cloud-based software solutions, platforms and digital services.
Our ethos back in 1993 remains the same today - to use our knowledge, skills and capabilities to harness technology and ensure that it delivers measurable and sustained benefits for our clients and, in turn, their customers and employees.
This ethos has served us well and has seen the company grow to over 90 people across the Isle of Man, Scotland and England. Our team includes expert analysts, talented developers and organised project managers who ensure that projects get delivered on time. Long-term relationships are important to us. We listen to our customers' needs, problems and expectations to show them what's possible and how best to achieve it.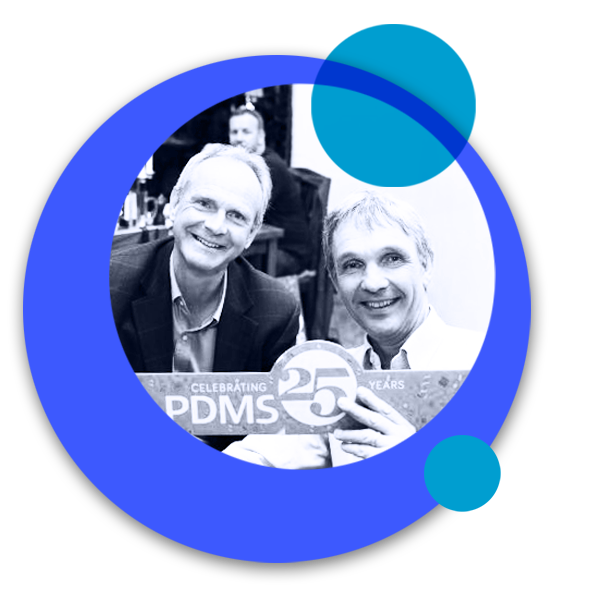 1993
PDMS is set up to provide data consultancy
1995
We develop the Isle of Man Government's first ever website
1999
Our first international customer - Black & Decker USA
2003
We gain ISO9001 - our first external certification
2008
Our NHS Online catalogue wins a national e-government award
2010
We move into Global House - our new headquarters on the Isle of Man
2012
We secure a place on the first ever GCloud framework
2013
We open our Glasgow office in the Hub, Pacific Quay
2014
We acquire part of the Maxima Information Group and grow our team by 14
2017
We move into our new Glasgow office in Academy Park
2022
Growth of our Scotland team takes our total headcount to 90+
2023
We're celebrating our 30th anniversary
Looking back over the last 30 years and then forward to the future, it is clear that our original mission to be a trusted software engineering partner, helping people get value from technology, is as important now as it ever has been.

 

Chris Gledhill

Founder & CEO