Expanding UX knowledge with The Interaction Design Foundation
News
Published on 29 December 2022
Prior to entering the IT industry, my education and experience were focused on experimental social psychology, with several years of experience leading and conducting human research studies. 
After completing my MA and joining PDMS on a full-time basis, I completed the BCS International Diploma in Business Analysis and became well-versed in the standard business analyst tools and practices. I was also given the opportunity to observe and see how some of my fellow analysts approached clients' problems and performed analysis. It struck me that some of the more innovative techniques weren't included in the traditional business analysis curriculum. 
I started discussing what I observed with a colleague and fellow analyst, and she explained that she had learned these skills by studying User Experience (UX), especially UX research. 
There are many definitions for UX, and many more related terms. The Cambridge English Dictionary defines it as: 
The experience of someone using a product, system, or service, for example whether they find it enjoyable and easy to use.
Our Head of UX and Design, Jim Rawson, prefers the simplicity of 'positive UX can put a smile on someone's face', or as renowned designer academic and author Don Norman declared, everyday things should be 'a joy to own, a joy to use'. 
Our discussions of the various approaches for collecting user data and interpreting it piqued my interest; as a researcher, this is what I enjoyed the most. From then I knew that I wanted to study UX, too. 
How did I become aware of the Interactive Design Foundation?
My colleague recommended looking at the Interaction Design Foundation (IxDF), which is a subscription-based course provider, specialising in self-paced and manageable UX training. One of the things she noted was that the content is always up to date and is continually refreshed to keep up with the rapidly evolving industry. With the support of PDMS, I embarked on my UX journey and studies. 
What have I learned so far?
I have completed five courses with IxDF and a masterclass; I am currently working my way through two more courses.
Some lessons covered topics that I had heard of and was eager to explore such as the fundamentals of user research - this took me back to my research assistant days and really showed how I could apply the value of my existing research and evaluation skills to my current role.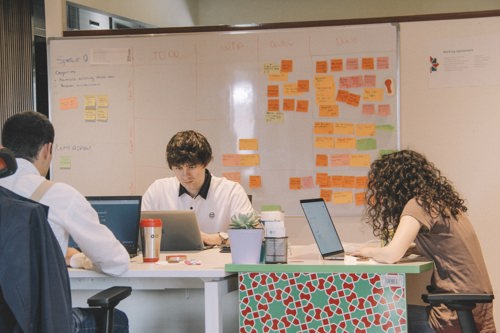 Other courses described tools that I wish I had discovered sooner such as 'Design Thinking' which covered the importance of prototyping.  
One of my favourite courses was Agile Methods for UX Design. As a business analyst who often works in an agile environment, I found this course to be incredibly practical. It explored how UX research (and design) fits with agile ways of working; after taking the course, I could clearly see how I could fit UX research into my own business analysis practice. 
How have I shared my knowledge? 
I found the IxDF courses so fascinating that I knew I couldn't keep the knowledge to myself and wanted to share it with my colleagues. After completing a Design Thinking course, I volunteered to lead an internal webinar on the topic.
Jim Rawson (coincidentally the Isle of Man's IxDF Local Community Leader) saw this as an opportunity to expose more colleagues across the business to UX and volunteered to co-lead the presentation.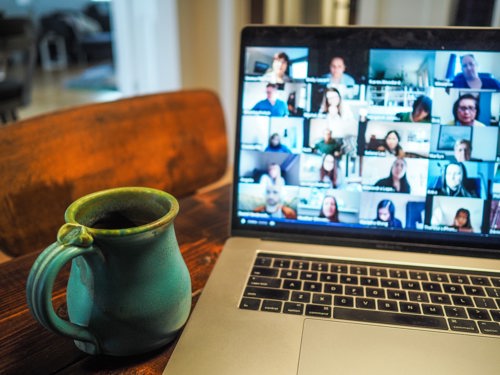 Together, we used the core Design Thinking approach and steps as a jumping-off point and explored many of the wide-ranging applications of the topic and how we could apply the techniques. At the end of the webinar, we pointed our colleagues to IxDF to learn more about Design Thinking. 
Since the webinar, several colleagues have asked me about IxDF. Each time, I list the merits of the courses – the quality of the content, the flexibility for learners, and, of course, the unbeatable value for money. 
What will I study next?  
I imagine the numerous IxDF courses will keep me busy for a while. I have mostly followed the User Researcher learning path, but there are so many interesting courses that I can see myself exploring the many other learning paths such as the Product Manager path. Having taken full advantage of my IxDF subscription, I cannot wait to apply my new and future skills in action and to continually improve myself as a business analyst. 
UX and User Centred Design processes have so much to offer business analysts. They allow practitioners to dig deeply into the problem space to uncover users' challenges, with a much larger toolkit, and create solutions that are not only functionally fit for purpose but are a pleasure to use. So, most importantly, I aspire to help other analysts learn about UX and how it can greatly broaden - and deepen – their own perspectives, skills, and working practice. 
Topics
Skills Development
UX Design
Careers