Celebrating Global Accessibility Awareness Day
Insight
Published on 18 May 2023
18th May is Global Accessibility Awareness Day (GAAD). Now in its 12th year, GAAD was established to raise awareness of digital accessibility and its importance to the 1.3 billion people worldwide with disabilities and impairments.
Most of us are familiar with the adjustments and tools that are provided in the physical world. Think about wheelchair ramps and braille markings to hearing loops, plus many more. They all form an adjustment for people with a specific disability.
They are so commonplace that many of us don't even notice these adjustments or additions in our surroundings. Yet for people with a disability or impairment, they are invaluable.
But what about digital adjustments? We don't often think of the considerations that need to be put in place to support disabilities. But they are equally as vital, particularly as our lives are lived increasingly more online.
This became especially evident during the pandemic when many people were forced to try and persevere with digital services that were not fully accessible.
This digital exclusion had a huge impact on the elderly and the disabled. With a higher vulnerability to the virus, they had to rely on these online services in lockdown to access health information. As a result, the lack of accessibility made it much more difficult to access support services, medical appointments, health advice and more.
Why consider web accessibility? 
Everyone deserves the best digital experience possible when they use web-based services and content in all its forms. This means we must enable the exact same successful outcome for those with disabilities as those without.
Sadly, it's all too common for people with disabilities to be inhibited by today's digital products. As of 2022, only 3% of the internet is accessible to people with disabilities. This means that those with a disability or impairment cannot successfully access a staggering 97% of the world's digital services.
Broad, common categories of disability that affect people's ability to use websites include: 
Visual 
This includes people who are blind, visually impaired or colour blind. They need higher contrast, alternative test descriptions for images, screen readers and navigation with a keyboard instead of a mouse.
Hearing 
People who are deaf or hard of hearing need captioning for video presentations and visual indicators instead of audio cues.
Motor 
People with motor impairments may need alternative keyboards, eye control or other adaptive hardware to help them navigate their digital devices.
Cognitive 
People with learning disabilities or impairments may need uncluttered screens, consistent navigation, increased screen size and the use of plain language.
Drilling deeper into those categories, there are many thousands of more specific disabilities - for example, in the UK alone:
1 in 10 people have dyslexia
2 million people are living with sight loss
1 in 12 adult males and 1 in 200 adult females have some form of colour blindness
5 million people have a learning disability
1 in 5 adults have hearing loss greater than 25dBHL
More than 40% of people over 50 have hearing loss, rising to 70% of over 70s
In addition, many more people suffer a temporary or short-term disability as a result of an accident, injury, medical condition or surgery.
Developing websites and services in an accessible way gives everyone the same experience and opportunity regardless of disability. However, it is an ongoing challenge to implement, mostly because older websites and services may not have been originally coded with this in mind, and web development is expensive. But web accessibility isn't optional or a 'nice-to-have'.
One in five adults in the UK have some form of disability. This should not prevent them from having access to the same services and information as everyone else.
In 2018, the Public Sector Bodies Accessibility Regulations were passed in UK law which state that all public sector services websites and applications need to comply with the WCAG 2.1 AA standard. This guidance sets out a basic standard of accessibility.
With increased digitisation of processes and resources worldwide, the digital divide is continuing to grow. 62% of adults with a disability say they own a computer, compared to 81% of those without a disability. It is thought this trend is due to the lack of accessible websites leading to a lack of faith from consumers. Therefore, we need to bridge the digital divide and strive to increase the usability and accessibility of websites, mobile apps and other online tools. 
And it's not just a moral obligation. It is estimated that £17.1 billion of revenue is lost in the UK each year due to shoppers with accessibility issues abandoning e-commerce sites due to poor accessibility.
How do I make my website accessible? 
The reasons many websites are inaccessible include:
Businesses don't know where to start. Lack of knowledge about inclusive design and resources required to meet the needs of all conditions can be challenging.
Budgets: paying for seemingly 'invisible' accessibility changes is tough to justify commercially
Consumer/prosumer website building software often does not generate accessible html code
Legacy websites were built when awareness and knowledge was even lower than it is now
Inexperienced or self-employed designers and developers are sometimes unfamiliar with designing and coding to accessibility standards
So where to begin? 
The best place to start is the Web Content Accessibility Guidelines (WCAG). This internationally accepted 'source of the truth' is based on four main principles that you need to consider when designing your digital products and services:
Perceivable – can users clearly perceive and understand the information and user interface on your site? Is there anything undetectable or invisible?
Operable – can the user successfully identify and use every area of the site such as buttons, controls, navigation etc. without interruption?
Understandable – is all content clearly and consistently presented in a format with predictable patterns of usage and design? Can users easily comprehend and digest the information presented?
Robust – does content function reliably for all users and across all technologies including assistive devices?
The most common WCAG failures are low contrast (86%), missing alt text (descriptions) for images (61%), empty links (51%), missing form input labels (54%) and empty buttons (27%).
So, the next time you're in your website CMS (content management system), why not get your web developer to check some pages to ensure these elements are marked up in HTML correctly. Even better, learn html yourself so that you be specific about the changes that are needed, or ask a friend with a disability to test your website for you and provide some feedback.
Our commitment to accessibility 
At PDMS, we are dedicated to achieving digital accessibility across our digital services and projects. Web accessibility is a measurable indicator in projects delivered by our team, from developers to UX designers and content editors and client training. Our approach ensures our digital solutions allow everyone to navigate, obtain and consume the information presented.
We are also committed to educating the wider industry. We began this initiative a few years ago to raise awareness of the importance of digital accessibility.
In 2020, when we ran a digital accessibility awareness seminar with the Isle of Man Chamber of Commerce. We received a lot of interest, particularly in empathy demonstrations and simulations of how people with disabilities use websites digital services. Did you know that blind people can often browse faster than fully sighted users? As long as the websites are set up correctly, of course!
We're continuing to champion the use of accessible tech in the UK, Scotland and the Isle of Man and we're currently planning a bigger and better event later this year. Stay tuned for more information about dates and sessions.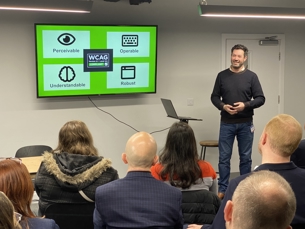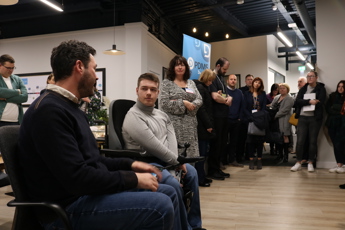 Photos from our previous accessibility webinar in December 2020