Should TikTok be part of your marketing strategy?
News
Published on 20 February 2023
Like many people, I try to keep abreast of the latest trends in social media.  Perhaps it's because I have teenage children who, in my opinion, unfairly refer to anyone over the age of 40 as dinosaurs, which if nothing else, encourages me to prove them wrong and at least learn the basics.  To be fair, I was late to the party with TikTok, it didn't instantly pique my interest, like Facebook and Instagram, and it probably wasn't until the first lockdown when I created an account and experienced first-hand the fascination of this new platform.   
For those who are unfamiliar with TikTok, it's a video-sharing social media platform that enables users to create and share content, as well as discovering content from other users. The video length can range from 15 seconds to 60 seconds with topics covering comedy, dancing, singing, lip syncing but also information like cooking and personal finances.  
With popularity rising faster than any other, it has over one billion active users worldwide, and if you're one of those users, you'll notice, like all social media, it's saturated with advertisements from all kinds of organisations.  If you are idly sifting through your feed, an advert will appear in various forms, marketing a product or service, and more often than not, it's entertaining, whether it's interactive challenges, trending hashtags, influencer collaboration videos or tutorials. Google has even noticed that Gen Z (those born between 1997 – 2013) are turning to TikTok as their search engine.
TikTok was borne out of the amalgamation of two social media platforms from China: Musical.ly, a lip-syncing app, and Douyin, a video app, in September 2017.  Less than a year later, it overtook Facebook, Instagram, YouTube and Snapchat in downloads, and a few months later, TikTok became the fourth most downloaded non-gaming app in the world. Today, it has risen to the top spot and is currently the most downloaded app in the world, which is quite an achievement, given the strength of its competitors, and it doesn't stop there, it has been predicted that by the end of this year, it will be the most watched social media platform, pushing YouTube from the number one spot.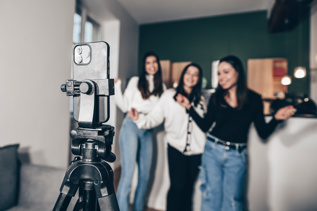 So, what's the secret of TikTok's success? 
It was during the pandemic, when most people were struggling to deal with ongoing lockdowns and daily struggles of staying indoors when TikTok became the social media platform everyone was talking about.  By mid-2022 it was reported that there had been an incredible 45% increase in monthly active users. It was no longer just Gen Z who were obsessed with its content, but whole families were bravely posting videos of their versions of the latest dance routines.  
Companies haven't ignored the business opportunities capitalising on the success of TikTok.  In years gone by, television, radio and newspapers were the prime go-to for advertising any business, now businesses of all shapes and sizes are opting for some form of social media to target their audience.  In the last year it was estimated that almost 4 billion people use social media, and with TikTok being available in more than 150 markets in 75 languages, businesses don't have to chase followers to get their content seen, and by adopting TikTok as a platform to advertise their brand, it's clearly a smart move for increasing audience reach, and indeed consumer engagement.  
In an effort to attract advertising, TikTok has made substantial progress in developing partnerships to help promote and sustain a safe environment for everyday users on its platform, which in turn makes it safe for brands to advertise.

 
TikTok isn't just an app for memes and dance challenges, so where does advertising fit in? 
It would be unwise for companies to ignore TikTok, given its success and popularity, but where do they start? The answer is simple, start where everyone else does: by setting up a TikTok account and creating a profile.  Spend time on the platform, learning how it works and analysing what everyone else is doing, and what's catching the viewers eye.  Essentially learn the basics of TikTok.  The app itself is very user friendly, so once a basic relationship has been established, create content that would appeal to users, whilst ensuring to retain the vibe of your company brand: authenticity is vital, and the campaign should send a clear message and most importantly, stand out from competitors. 
TikTok is diverse in the type of advert it supports, from In-Feed Ads, Branded Effects and Hashtag Challenges, Brand Takeover Ads and TopView Ads and they are targeted to different types of campaigns.  Music and audio are the most direct methods to target and connect with the audience and capture their attention. It uses a simplified procedure to set up, ultimately creating an immersive experience for your audience, but it is important to create content that suits your individual company's brand and contributes to its specific goals.  
Brands that have used TikTok to reach their audiences 
There are many companies who can credit their success to TikTok, some that started out small and relatively unknown, and others that are prominent multinational organisations.  ASOS, an online fashion and cosmetic retailer, has a huge social media presence and employs a 'user-generated content' method in their socials, sharing outfit inspiration which can easily be recreated by the viewer, and a candid 'behind the scenes' insight for their audience.   
Gymshark is another clothing brand, with an emphasis on fitness, which unquestionably owes its success to its use of social media. Given the market is saturated with fitness accounts, Gymshark chose to incorporate humour in its advertising by sharing fitness memes poking fun at the fitness world, where workouts go wrong with hilarious outcomes.   
Ryanair is another company that employs TikTok to share jovial memes, using their planes as the central character to create self-deprecating videos that their target audience can relate to.  Starbucks, The White Company, and Oreo have also utilised TikTok by following relevant trends to reach their audience. Oreo biscuits are brought to life by making them talk. Starbucks interview their baristas, often using famous faces, and The White Company, a high-end quality product company, use TikTok to share tutorials, DIYs and videos on how to use and get the most out of their products. 

What do I need to consider to advertise on TikTok? 
Companies that choose to advertise on TikTok should consider some basic rules to allow them to stand out from competitors. Researching current trends and their target audience is important for producing the right content, for example should it be factual or funny?  It has been described as an accessible creative space, and unlike Instagram, it's less formal. 
"TikTok is a hub of creative, fun, and sometimes crazy ideas, so try to soften the brand tone and join the playful community," said Madelyn Fitzpatrick, head of corporate communications at Charming Charlie.

 
Participating in TikTok challenges is a simple method for companies aiming to increase engagement. Nandos restaurant chain has a range of best performing videos employing TikTok's duet feature, which enables direct interaction with content posted by its customers – which has been well received by TikTok users and is cheap to create.  Creating a branded version of a trending song, can appeal to a huge audience and enhance visibility, whilst promoting their brand as down to earth and relatable.  
TikTok can be an ideal place and a valuable social media marketing tool for any company to reach their target demographics, whether it's a small online start-up business or an established multi-national conglomerate. Like many social media platforms, TikTok is particularly popular with the younger generation – almost 90% of all TikTok users are younger than 50 years old.  Gen Z (aka 'zoomers') are renowned to be an incredibly difficult age group to market to, and given they have a strong foothold in the economy, it's paramount for companies to reach them and appeal to their interest. They must create an immersive experience with viewers, to ensure their ad campaign is fun and interesting.  This is the key to successful advertising for all ages, dinosaurs included.