PDMS donates new defibrillator in memory of colleague
News
Published on 30 June 2022
In May 2021 we sadly lost one of our very dear and longstanding colleagues, Helen Ward. 
Helen was our Support Services Manager who had been part of the PDMS family for over 15 years when she passed away suddenly at the age of 58.  Helen was universally liked and respected by everyone who worked with her – colleagues and clients alike. As the manager of the Support Team, Helen had a hugely positive influence on the many people who worked with her over the years - helping to shape, develop, and nurture the careers of her team members – always with a caring outlook.
Helen is greatly missed by everyone at PDMS, and we wanted to find a way to remember her legacy. We decided to support a very worthwhile local charity in Helen's memory - Craig's Heartstrong Foundation.
Craig's Heartstrong Foundation was set up in memory of Craig Lunt, a talented young Manx footballer who tragically died at the age of 25 in April 2005, as a result of a previously undiagnosed heart defect. The charity does an amazing job of generating funds and organising heart screenings for local residents aged between 14 and 35, to help find detectable heart defects and ensure that the individuals get the support and treatment they need to live a healthy life.
During the various lockdowns on the Isle of Man in 2020 and 2021, the charity was unable to run its normal programme of heart screenings. Instead, they focused on their other mission - providing lifesaving defibrillator machines around the Island. 
The machines are in a wide range of locations across the Island where the public can access them and can help to increase a person's survival rate from 7% to 70%.
PDMS has sponsored the purchase of a defibrillator, in Helen's memory, for the Southern Nomads - a local rugby team that we have sponsored for many years and some of our staff are current and past players of the club.
We were pleased to officially unveil the new defibrillator on 16th June 2022 together with Paul Healey from Craig's Heartstrong Foundation. The defibrillator is located on the outside of the Nomad's building on the Ballakilley pitches in Port Erin and can be used by players, visitors and local residents in an emergency.  The defibrillator is also registered on the Island's interactive "My Nearest Defibrillator" map which helps members of the public find their nearest defibrillator in the event of an emergency.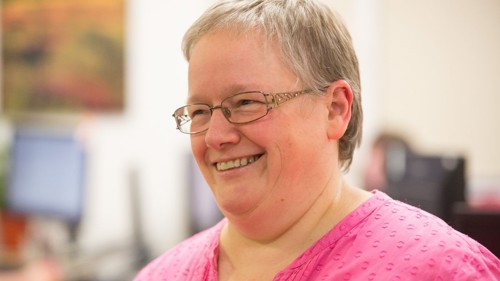 Helen Ward 1963 - 2021
Topics
Community
Isle of Man
Social Value