PDMS Bird Life
Insight
Published on 20 December 2021
PDMS has recently been involved in a charitable project for Manx BirdLife to develop a new database designed to make the task of adding tens of thousands of records to the Manx National Ornithological database much more efficient. 
We were really pleased to be able to help the charity with their great conservation work to protect the Island's wild birds and habitats as we have a particular soft spot for our feathered friends.  UX Designer, Georgia Vernon explains how we've been playing our own small part to help nurture the birds that inhabit the trees around our office in the Isle of Man and how much we enjoy their company.
The story really begins back in 2019 when the PDMS family was about to get a whole lot bigger! We were expecting! Four little Eurasian Blue Tit birds were about to hatch.  We felt it was our duty as a company to welcome these little birds into the world and provide them with a lovely home and some great-tasting mealworms. We immediately set up two bird boxes on the side of the building to accommodate the birds and added two bird feeders to the reception window. Little did we know this was only the start of our now huge bird family!
Our King and Queen of the family are the two Collared Doves. Every day you will find the two of them cuddled up on the tree branch watching over all the little birds. You will never see them apart.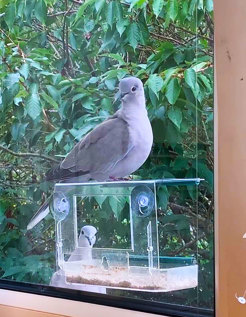 Next up is the Finch family, European Goldfinches and Chaffinches, these are the most boisterous out of the family yet the smallest. They will eat all the food and put up a good fight to secure their spot on the feeder! They are forever getting in trouble and receiving lectures from our receptionist about learning how to share the food.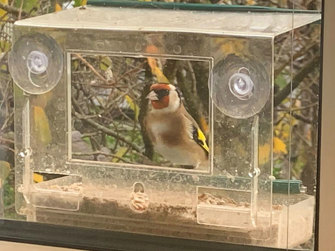 We can't forget the rare Greenfinches that visit us. We have currently 2-3 Greenfinches that have settled into PDMS very nicely. We were very excited when we found out they were Greenfinches because this species is currently on the Red List for birds. Their population has declined about 35% and to know that we have 2-3 visiting us every day is amazing! We are keeping them well-fed and hoping more will appear soon.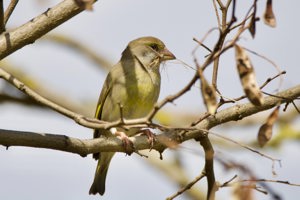 Speaking of rare birds, we also have a Siskin who brought two juvenile babies with him. He was last to join the family, but he has made his presence very known. He swoops in and out all day taking food, however, he tends to avoid all the other birds. Maybe he is still getting to know everyone....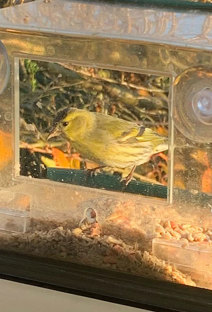 Santa's little Robins have been very busy keeping an eye on us all through the windows! We have watched the Robins over the past couple of months change colour into a bright ruby red. They are the sweetest out of the bunch.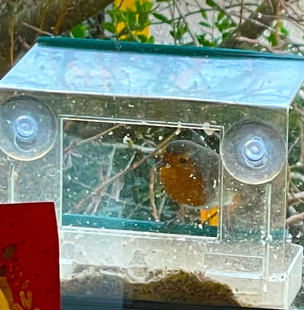 The Tits are our biggest group of birds. They range from Blue Tits, Great Tits and Coal Tits. Their colours are so beautiful in the sunlight and they have really started to warm to us. They were very shy to begin with and you would have to stand very still away from the window but now they allow us to go right up to them. They sing to us every morning to remind us to fill up their bowls!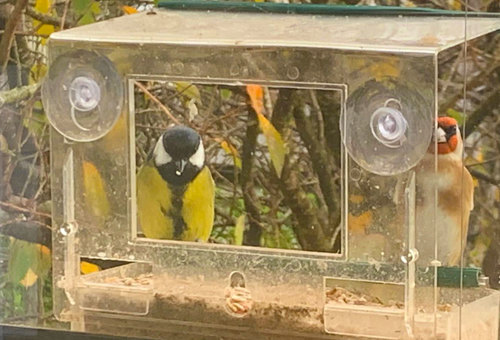 Our other birds that visit us are House Sparrows (also on the Red List), Dunnock, Song Thrush, Wren (all on the Amber List), Blackbird and we also had House Martins that were the first birds to nest in our new bird homes.
We are very excited to see what other birds we can attract here to PDMS and continue to watch them grow!