Launch of "Sit and Chat" benches to get our community talking
News
Published on 18 August 2020
Compassionate Isle of Man launch their 'Sit and Chat' benches.
In a bid to get our community talking and supporting one another, Compassionate Isle of Man have unveiled a number of "Sit and Chat" benches around the Island.
The benches are distinctively decorated and easily identifiable as places where people can do just that – sit and chat. It is hoped that by creating community connections and strengthening support systems, will lead to a decrease in loneliness and isolation. The benches can be used by anyone, of any age, and will promote simple acts of kindness that could make a difference to people who might be living alone and needing human contact.
Compassionate Isle of Man is a community initiative driven by Hospice IOM, which recognises the importance of families, friends, neighbours and communities working alongside statutory services to support residents of the Island.  The working group is chaired by Lorna Trevethan our Community Platform Manager and our Managing Director Chris Gledhill is also a member of the working group.  
The background to the project is explained by Wendy Smith, from Compassionate Isle of Man, who said: 
"Our aim is to nurture communities to improve well-being, build resilience at times of crisis and personal loss, support people to be compassionate and provide companionship. We feel that Compassionate Isle of Man has a key role in developing and growing a compassionate Island community.  Each bench features a plaque with a QR code which takes you to a page where you can find out more about other sources of help and support should you need them.
We hope that anything which helps to overcome the epidemic of social loneliness, with its attendant health and welfare issues, will be warmly embraced across the Island".
Lorna Trevethan, Chair of the working Group behind the Sit and Chat benches added:
"I am really proud to Chair the working group of Compassionate Isle of Man. It is fantastic to see the third, private and public sectors all working together to support our Island community with new initiatives such as the Sit and Chat benches. 
After a challenging few months due to lockdown and COVID-19, social isolation and anxiety levels have increased within the community. This means that the benches and the conversations that they facilitate will help to play an important role in helping to make the Island compassionate by encouraging people to take time to just sit and chat with each other.  We are looking forward to launching further initiatives in the coming months."
Learn more
Additional information about Compassionate Isle of Man is available here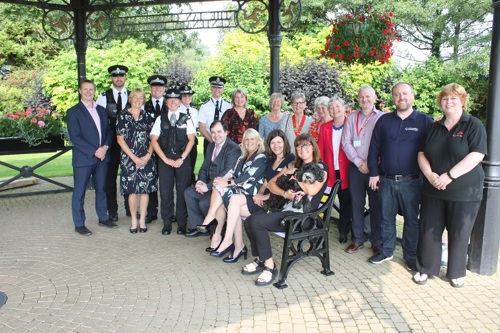 Photo from the launch of the Sit and Chat benches kindly taken by Bill Dale.