Is your website thriving or just surviving?
Insight
Published on 25 August 2020
10 agency tricks to improve the quality, visibility and profitability of your digital communications post-covid.
Most businesses today have a website, but how many fully understand the value and potential it has when it's run well?
Read on for ten simple but often overlooked tips and why they are so important to your website.  
1. Standout page titles and descriptions
On average more than 60,000 Google searches take place every single second. It's an astonishing figure, and post-pandemic this figure is likely to increase as populations become ever more reliant on digital.
With 4.6bn internet users around the world 1, search results need to appeal to individual users and the wording used in a page 'meta description' on your website is often collected by Google to display visually in search results. Preparing concise and enticing wording about your products or services can help increase the number of clickthrough's you attract.

Good example of meta description. Source moz.com
Ease to implement rating: 8/10 – this is something you or your web developer can do quite quickly and easily.
2. Image search
We are visual creatures. People often use Google image search for products and by adding the right information to your images, you can increase the probability of your images being indexed and displayed in results.
If you have a Content Management System (CMS) for your website, check your images have the following:
Description
File names
'Alt' attribute, which should be an accurate description of the image
Image preparation and sizing – check that your images are sized and optimised for the web
If in your CMS you don't have access to these things, talk to your web developer about arranging for you to have access. By marking up images correctly, you're also meeting accessibility regulation which means users with disabilities will have a better experience too.
Ease to implement rating: 8/10 – depending on your CMS, this is something that you might be able to do yourself.
3. Understand your users
There are a many tools to help you understand how users interact with your website: Google Analytics and HotJar are two that are free and very effective.
While Google Analytics provides a view of the big numbers – visitors, countries, page views, devices - HotJar excels at the detail of interactions at the page level and can provide, amongst other things, video clips of users conducting transactions on areas of the website that you specify.
Use of analytics in this way can help you understand your customers needs and wants, their likes and dislikes and can help you continuously improve your service, leading to increased engagement and loyalty.
Ease to implement rating: 7/10 – depending on your CMS, this is something that you might be able to do yourself. There are lots of free online tutorials showing you how to use Google Analytics and HotJar.
4. Creating good, trustworthy content, products and services
It may have been as long ago as 1996, but a quote from Bill Gates' presentation stated that 'content is king' 24+ years later, it still holds true today. In a world where we buy goods and services locally and virtually from around the world, trust is vital and hard to earn. Content that supports your values and ecosystem can help to build trust from both Google and your customers.
In addition to authentic content, use short and concise paragraphs, section breaks, headers, bullet points, internal site links and finally a call to action at the bottom of the page. You'll see that some of my pro tips have been deployed in this article!
Ease to implement rating: 10/10 – play around and work out what content your clients engage with.
5. Consistency
Consistency is one of the golden rules of branding and this approach should also be applied to your website.
A consistent website, with the same 'look and feel' across all pages will help your visitors feel comfortable and at ease while browsing.
For me personally, a lack of consistency in the user experience and branding elements demonstrates a poor attention to detail and can even lead to mistrust. If a website lacks consistency and has a poor user journey I will often leave the website as I wouldn't feel confident to purchase something from the site (which could be a good thing or a bad thing!)
Ease to implement rating: 10/10 – spend some time working out what looks good on your website and then recreate this across your whole website. No outside help should be required but it could take some time. 
6. Security and privacy
A website that uses https protocol is considered more secure is universally indicated by a padlock symbol which will be visible, usually in the address bar of the browser. Websites with https also tend to rank higher with Google.

Source: google support
If you're not sure, ask your developer what's involved in using https.
Companies who host websites will ideally hold relevant qualifications (don't be scared to ask) such as Cyber Essentials Plus – can add extra layers of security and this may reduce concerns about hacking and other malicious attempts. It's also important to make sure your supplier has a strong track record in website uptime - which in most cases should exceed 99.5%.
All websites need to display a Company Registration number (if you have one), a Privacy Policy explaining how you process users' data, and a 'Cookies' control, which lets users choose which cookies they agree to be used on their device. All of these are legal requirements - if you're unsure what to include I'd recommend getting some professional advice.  
Ease to implement rating: 5/10 – this is very important to get right, if you're unsure, get some professional advice. 
7. Does your website work on mobile?
Mobile browsing continues to grow, accounting for 48% of webpage views globally and the global mobile population is 4bn unique users. 2  
These numbers are big and when your website is not easy to use either on a device or desktop, it can affect the conversion rate of sales, enquiries or other transactions.
By the end of the 2020, Google will have completed mobile indexing across all global websites, prioritising and rewarding those that are mobile-friendly. There are still a few months to rectify this.
Ease to implement rating: 3/10 – if you're having to start from scratch, this is something that could be time intensive for your web provider to complete but is worth the effort.
8. Regularly check for 404 error pages
A 404 page, or error page, is shown when someone attempts to visit a page that does not exist. As a website user, it can be frustrating and often means that you will leave the site and potentially visit and purchase from a competitor instead. 404 pages often occur when pages are removed or renamed, or when making major changes to a website such as a redesign. Your web developer should be able to assist with redirects and I'd highly recommend regular use of a broken link checker on your website. There are lots of free tools available that will scan your whole website for '404' pages.
Ease to implement rating: 10/10 – if this is done little and often, it isn't too time intensive. 
PS - it is inevitable that some of your website users will find a 404 error page (for example by mistyping the address manually) but feel free to have some fun with the design of it: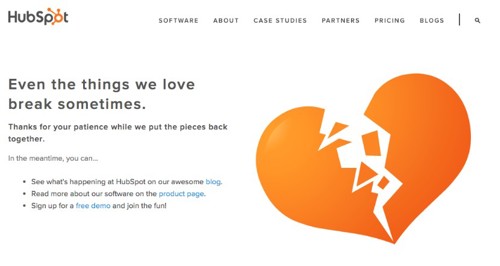 Hubspot's 404 error page is on-brand, helpful and will hopefully encourage users to remain on the website.
9. Reducing page load speed
There is nothing more frustrating than a website taking a while to load, this frustration is doubled when you're using your mobile and it is eating into your precious mobile data package.
Using Goole Page Speed Insights, work out what the problem pages are. From this, try re-uploading the images to your page aiming for the smallest file size you can, without impacting on the quality of the image. As well as improving the website experience for your visitors, it also is good for SEO and should help you rank higher in Google. If this doesn't work, speak to your website developer to get some advice from them.
There are lots of free tools available for helping you to compress your image sizes and to save them as JPEG – including Canva, Picture (which is included for free as part of your Office download) and even Paint. 
 Ease to implement rating: 9/10 – use some of the free tools available to you and see what improvement it has on your website load time!
10. Have I got a favicon?
What is a favicon, I hear you ask? A favicon is a small but key part of a website – it is a small icon, usually a logo that is used in the address bar and is also stored when user bookmarks or downloads a page. Some search engines even display the favicon alongside the search result.

(source Woorank)
Although there are no direct SEO benefits for implementing a favicon, it helps to reinforce your brand identity, maintains a professional, trustworthy appearance and helps your website stand out from your competitors.
 Ease to implement rating: 6/10 – this is something your agency will have to do for you but it should be a relatively quick task for them.
Learn more
More information about our digital capabilities is available here
Sources
2 Statista