How we helped launch a new skills portal for Hertfordshire
News
Published on 20 January 2020
New Hertfordshire-wide skills portal HOP launches to market
Hertfordshire Opportunities Portal, HOP, has launched to market enabling students, employers and residents to HOP into all the resources they need to make informed career decisions and build a future talent pipeline. Funded by Hertfordshire Local Enterprise Partnership, HOP will be the tool for those who live and work in Hertfordshire to learn more about different career paths, apprenticeships and work experience, skills development and professional qualification programmes.
HOP will enable:
Residents to access the information they need to make informed decisions on career path options including Further Education, Higher Education, professional qualifications, work experience and job opportunities;
Employers to reach and recruit their future talent and upskill and provide progression opportunities for existing staff;
Training providers to tailor the local offer in order to meet current and future business needs.
Powered by our SignedUp Skills platform. The platform harnesses the latest technology to gather thousands of reliable and relevant economic opportunities and make them easy to search, save and interact with. For HOP we have tailored the approach to focus on the local skills and priority sectors while helping those in education to decide upon their future career. 
Caroline Cartwright, Skills Employment and Apprenticeships Lead at Hertfordshire LEP, said:
"I am absolutely delighted we have launched  HOP. This has been the result of months of hard work, determination and passion to help us deliver our vision for HOP to become the go-to portal for skills training and apprenticeships information and for it to become a beacon of excellence across the country.
"HOP has arrived and will, I am sure, have a very positive impact on the skills and development landscape for years to come. I urge everyone interested in education, training and apprenticeships to HOP in and start exploring!"
Richard Graham, Head of SignedUp Skills said:
"It has been a joy to work with Hertfordshire LEP on this project. Our software engineering expertise combined with their understanding of what Hertfordshire needs has resulted in a truly innovative solution. We are looking forward to seeing the results they are able to generate with it."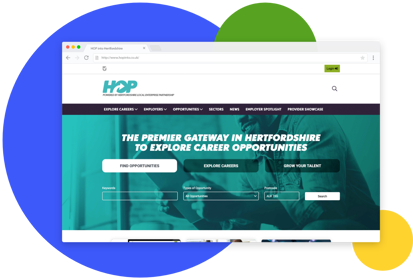 Learn more
Learn more about our SignedUp Skills platform
Topics
Training
Skills Development
Community