Find my bus, or should we say tractor
News
Published on 08 December 2022
Working with IOM Department of Transport to support the charity Tractor Run 
Earlier this year, PDMS worked with the Isle of Man Transport to launch a new bus tracker app for transport users, which shows live bus tracking for the whole island. The location data is received from Ticketer for every bus, school bus, steam train and tram, which in turn provides the information to the connected clients via web sockets technology. The data is then displayed on a map showing live locations, allowing the traveller to identify and follow their bus or tram in real-time. 
Recently we were approached by the Isle of Man Department of Transport asking if we would be happy to spend some time changing the icons from buses to tractors, to support the Isle of Man Young Farmers fundraising initiative.  How could we refuse, and we were delighted to get involved and support such a worthy cause, especially at Christmas.
What is this tinselled tractor initiative?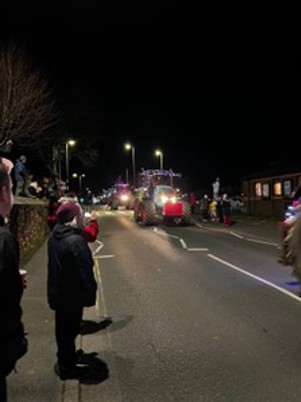 The Isle of Man Young Farmers introduced the first Christmas Tractor Run in 2018 around the north of the Island and finishing in Douglas.  The event attracted 30 tractors, all covered in Christmas lights, with spectators from across the island watching the parade, which raised a significant amount of money.
In fact, due to its success, the event was repeated for the following two years and over £20,000 was raised for various local charities.
This year, they decided to change it up a little and incorporate the south of the island too, which took place on Friday 2nd December, in addition to their big event which was on Saturday 3rd December.  Around 75 tractors took part to raise money for Arlo's Adventure and Live at Home. 
Live tracking means no more waiting for your bus (or tractor) to turn up
Users of findmybus.im could zoom in and easily watch the tractors moving along the street, confirm if it was running on time and find the time that the tractor parade was approaching their street.
Not only is findmybus.im a great tool for public transport users but also provided useful information for fans waiting to see The Young Farmers Tractor Run.  Lots of our staff were out last weekend supporting the Festive Farmers as they lit up our streets, entertained us all and raised much-needed funds.  Well done to everyone involved!