Celebrating the achievements of children's champions and inspirational families
News
Published on 18 November 2021
Representatives of PDMS were delighted to attend The Heroes of Mann Awards on the Isle of Man which celebrate young role models and their achievements within the local community.
The awards evening, which took place on Saturday 13th November, was a truly inspiring event, celebrating children's champions on the Isle of Man and recognising the achievements of inspirational individuals and groups.
The awards are organised by A Little Piece of Hope charity who help bereaved families and sick children age 21 and under on the Isle of Man with hospital travel, funerals and headstones, mental health support and vital equipment. This fantastic charity wants to ensure that families don't have to deal with financial pressures, on top of everything else, at one of the hardest times in their lives. Run by just a small team of three, the work of the charity has a hugely positive impact on the young lives and families it supports.
Barbara and I attended the awards to represent PDMS as we were delighted to sponsor the "Skies the Limit" Award, recognising the efforts of young fundraisers on our Island. The award was won by a very deserving young man called Charlie Hurst.  During lock-down, ten year old Charlie spotted a post on his Mum's Facebook feed about "chicken curry" – the post was about a local family who were cooking meals for vulnerable people who couldn't cook for themselves or people who couldn't afford a decent meal.
Charlie was really moved by this and wanted to donate his money from a recent sponsored activity and his Christmas money to the "IOM Community Meals" initiative so that they could carry on cooking.   IOM Community Meals (run by Sammi and Gareth) recognised this very kind and selfless gesture with a post on their page and the story went viral – viewed by over 2000 people locally, it generated awareness of the fantastic work that IOM Community Meals were undertaking and helped to further boost much needed donations to help continue feeding people. You can watch Charlie's award nomination video here.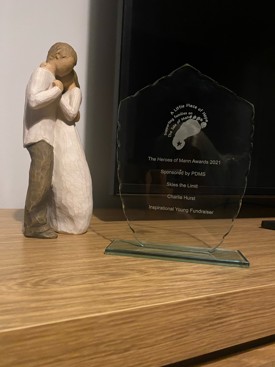 IOM Community Meals has continued to cook meals to help those in need but with the increase in gas prices on the Isle of Man, the charity needs more donations to help keep them going.  In response to this, Charlie is now fundraising with a sponsored walk from Douglas to Peel on Saturday 27th November to raise more money.
Barbara and I were really moved by some of the emotional stories of the different deserving award winners (it's a good job packets of tissues were provided!). It was heart-warming to hear the stories of resilience, selflessness and compassion of individuals, families and groups on our island. You can watch the videos of all the winners on @heroesofmannawards on Facebook and find out more about the great work of the Little Piece of Hope charity here.
To Sammi @IOM Community Meals

 

My name is Charlie Hurst and I would like to give you my sponsored read money that I raised over lockdown 3.0.

 

The way I found out about you was from your Facebook page. My mum was looking on Social media and I saw a photo of your food and said "Oooooo Chicken Curry – my favourite!"  My mum explained to me what Community Meals did and it made me feel really sad and upset that there are some people on the Isle of Man that didn't have any food and I really wanted to help.

 

I completed a sponsored read which I raised £50.00, I wanted to add £15.00 from my Christmas money and my mum and my dad have also given me another £15.00 to make it £80.00 for you.  I hope this helps you make some more meals for people who have no food so they don't feel hungry.

 

Thank you for being kind to our community.

Charlie Hurst, age 10
Topics
Isle of Man
Awards
Social Value
Community