Website inequality
Insight
Published on 30 June 2022
Written by Amy Tasker, who joined PDMS for a three-month work placement as part of her MSc.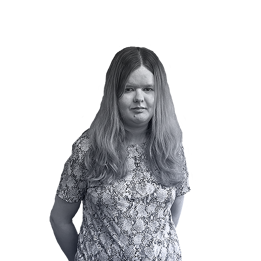 I first met PDMS' Design Manager Jim Rawson during my role with UCM when he volunteered to give my team training on UX Design and Accessibility.  We talked about my interest in looking further into accessibility and my future plans. I had been accepted to start my MSc focusing on Digital Accessibility and trying to find a solution to 96.8% of websites failing accessibility testing 1.
As part of my MSc programme, we are required to complete two three-month placements. I spoke to Jim and he was more than happy to see if PDMS could provide me with a placement, and I was lucky that they said yes, and I joined the Design Team in February.
On my first day, I was given a warm welcome from PDMS, and I was mentored by Georgia, who introduced me to Umbraco and got me back up to speed with the Adobe Suite.
At the start of my placement, I was still very uncertain about where I wanted my Master's Degree to take me but I did know that I wanted to focus on accessibility and that coding wasn't for me. Jim was happy to accommodate me and my desire to focus on accessibility and provided me with a broad range of tasks to see where my skills began to shine.
I started my placement by creating an accessibility checklist/testing document that our team of testers can follow to:
Perform a keyboard-only test to check that everything is accessible when not using a mouse
Check colour contrast between background and text colours
Check that the code isn't skipping any heading levels, e.g. the code shows H1, H2, H3 etc. in order and not H2, H1, H3
Check the line spacing in paragraphs
Check the design is responsive and displays correctly on mobile devices
Check that images have appropriate ALT text
I then used this template to help complete my first accessibility audit for one of the Signed-Up Skills websites. I was then asked to complete an accessibility audit across the rest of the Signed-Up client sites and also some of PDMS' other clients' websites and make recommendations. 
In addition to the accessibility work, I've also had the opportunity to work on: 
Functionality testing
Identifying user patterns
Creating posters for the graduate fair
Creating job advertisements
Creating templates for reports
Updating documents and images
But my biggest project I worked on was finding a solution for the accessibility issues identified in the WEBIAM top million report. The report highlighted that 83.9% of websites failed testing due to poor colour contrast and 55.4% of websites failed due to missing ALT text for images. I found that a plugin for Adobe XD 2 that uses an AI to generate ALT text when an image is inserted, can then be copied into the ALT text field of the image. 
I also found that while many websites would calculate the contrast ratio between two different colours they wouldn't provide feedback/suggestions if the colour contrast didn't pass. So, with some help from PDMS' Front End Developer Nick to help me with my coding (something that I didn't expect to give another go), I created an excel document that calculates the colour contrast ratio between two colours and suggests the closest colour if the original colours do not comply with WCAG 2.1.
Looking back on the last three months, I can't thank everyone enough for the help and support that I have received to help me achieve my Post Graduate Certificate and Diploma. I am returning to UCM for a month to start planning my dissertation, looking into how User Simulation can be used to improve accessibility testing and provide insight into why Digital Accessibility is so important, but I hope this won't be the last time you hear from me.
Sources
(1) https://webaim.org/projects/million/
(2) https://adee.co/