Volunteering at the Ukrainian Refugee Shelter in Poland
Insight
Published on 19 April 2022
The Ukraine crisis
Having watched the news and seeing the atrocities happening in Ukraine, like everyone, I am shocked that this could happen in the 21st century to ordinary people just like us, with families and careers, enjoying normal lives. But it is happening and, unbelievably, an estimated 10 million people have already fled their homes in Ukraine, with nearly 5 million seeking safety elsewhere in the world.
As I watched the daily reports, I felt increasingly concerned for the safety of the Ukrainian civilians and how their welfare was being dealt with by world leaders. Ukraine's neighbouring country, Poland, welcomed the refugees with open arms.  They opened their homes to them as they arrived in their thousands and converted conference centres to provide shelter and food for them.
Fundraising for the Polish shelter
An opportunity presented itself for me to visit the refugee shelter in Poznan, a small city in west-central Poland with a population of around half a million people.  I jumped at the chance and booked flights for myself and Anna, my daughter, to fly over for a few days to volunteer at the shelter, where approximately 40,000 refugees have passed through.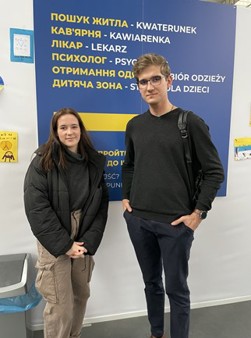 We also decided to take the opportunity to raise money that could be used for essentials when we got there, specifically food, toiletries, and medicine.  This turned out to be a huge success and thanks to everyone who donated, we raised almost £4,000 which, when converted to the Polish Zloty, has had a considerable impact on the desperate circumstances with which we were faced.
 We were collected at the airport by Franek, a medical student who is also the leader at the shelter and works with Caritas Polska, a charity currently focusing on the plight of the Ukrainian refugees.  He took us straight to a refugee shelter at the Supercomputing and Networking Center. This massive exhibition centre has been adapted to receive refugees before they move into more permanent local accommodation or onto another country. It has been sectioned out to allow for living/sleeping areas, showers and laundry.
The first thing I saw when we walked into the shelter was the creche. Instantly, I felt quite emotional as there were significantly more children than I had anticipated, all running around and having loads of fun with their new friends, whilst their parents looked on with mixed emotions and fatigue. I hadn't fully appreciated that there would be so many children and their mums, and the lack of males, as most Ukrainian men are unable to leave due to potentially being required to fight.  However, it was still disconcerting to see the mothers anxiously observing their children, most probably wondering what the future holds for them all.
We were then shown the sleeping area and asked not to take photographs, as there were people sleeping on the beds as we walked past, who had perhaps not long arrived after extremely long and unpleasant journeys, from Ukraine, involving multiple changes and long waits in freezing cold train stations.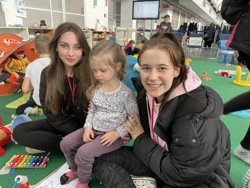 Despite feeling a little jaded from our own journey that started at 4am, we were given jobs to do around the shelter. Anna helped in the creche and I sorted through the clothing bags to be hung on rails or into boxes which would then be taken to other shelters.  After a few hours of what seemed like fairly hard labour, our shift was over and we were taken to our hotel. We were relieved to leave the shelter but also felt guilty that we had a nice room to sleep in for the night, in comparison to the refugees who were in rows of beds in communal areas.
The following morning, we reported to the shelter for our duties, which were mainly working in the 'café', a large area where the refugees could get hot food and drinks at any time of the day and night. Initially, I was quite excited to get the opportunity to help the refugees directly and converse with them, but that proved difficult as most of them spoke little or no English and I'm not remotely fluent in Ukrainian! That said, there were a few who I could chat to and find out where they had travelled from and where they were going.  However, I quickly found out that most of the refugees don't have a plan - they left their homes at a time when they felt it was unsafe to stay and would figure out what to do next when they were safe in Poland. 
Opportunities in other countries
The only stand in the shelter that invited refugees to seek asylum in their country was Austria. Other than that it was based on word of mouth - where someone would suggest a country and they'd decide there and then whether it could work for them. 
The general consensus was 'don't bother going to the UK as their visa system takes too long'. Many of the people I spoke to had left behind their families, friends, careers, homes, cars and were now facing the unknown. They do not want to leave their country permanently and consider this arrangement a temporary measure until the war is over. 
How can we help?
Every day we continue to hear about the atrocities in Ukraine and at present, there does not seem to be an end to it. So it is essential that we keep fundraising to help support the work of the shelter. 
The invasion of Ukraine has irrevocably changed global affairs but first and foremost it is a terrible human tragedy. Thousands of civilian deaths have been recorded and it has caused Europe's largest refugee crisis since WW2, with nearly 5million people forced to leave their country to seek sanctuary.  Countries such as Poland have led the way with vast relief efforts, providing them with shelter, medical aid, warm meals and words of comfort and solidarity. I witnessed this first hand, however these countries are now close to capacity and are under huge strain particularly financially.  They aren't rich countries - Moldova for example is the fourth poorest country in Europe.  Whilst some countries are doing a great job in supporting the refugees, there's a lot more that needs to be done by the international community to help support them and also the countries that are leading the way in hosting them.  
Final thoughts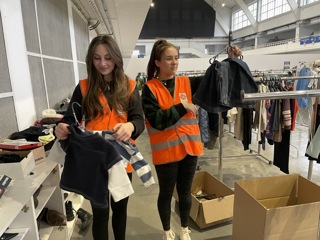 All in all, visiting a refugee centre in Poland, was a harrowing but humbling experience and one that I will never forget. My daughter, Anna, was one of three teenagers volunteering there and I couldn't be more proud of their selflessness, and immediate awareness to treat the refugees with respect and kindness.
Any money donated will be gratefully received by the refugee camp in Poznan, Poland, so please continue to dig deep and donate. 
I am very lucky that PDMS has been so supportive of me and my efforts volunteering at the shelter, and am grateful to them for their generosity and understanding, and I'd also like to thank everyone else for their contributions to this important charity.