Using my volunteering time to help Isle of Pride
News
Published on 28 September 2022
By Hazel Walsh, Test Analyst
I joined PDMS earlier in 2022, and was delighted to find out that they support Employer-Supported Volunteering (ESV). This enables the business to actively support local charities and play a part in the local community for two days each year. I was pleased to learn that PDMS encourage their employees to choose which charity they wish to support.
As a member of the LGBTQIA+ community (Lesbian, Gay, Bi-sexual, Transgender, Queer/Questioning, Intersex, asexual/aromantic/agender – commonly abbreviated to LGBTQ) and a proud ally (supporter of the community), I selected Isle of Pride as my charity of choice and approached them to see if there was any opportunity to support them with my ESV time.
My involvement
I was asked to assist with some of the design work that needed to be produced for the upcoming Isle of Pride Festival. This included signage for the event and 'selfie frames' that people could use throughout the day.
I wanted to ensure that all aspects of the current LGBTQIA flag were represented in my design. The original Gilbert Baker flag design of 1978 is the most widely known, the modern version of this is a six-colour rainbow. Over time further flags have been created to represent different aspects of the community and these were incorporated into the 'Progress Flag', designed by Daniel Quasar in 2018. The flags black and brown stripes represent marginalized LBGT communities of colour, community members lost to HIV/AIDS, and those currently living with AIDS, these are shaped as an arrow to symbolise the need for forward movement. In 2021 the flag was redesigned again by Valentino Vecchietti to include the intersex symbol (purple circle in yellow background).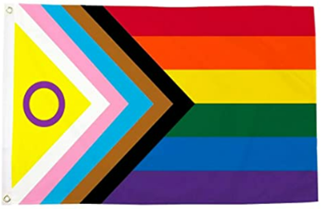 By breaking the flag into its two elements I was able to feature all aspects of the flag as shown. I also created a diagonal striped version – again featuring all colours of the progress flag.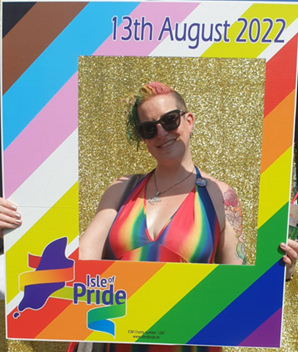 Hazel, with her finished frame
About Isle of Pride
While the Isle of Pride festival is a highlight of the year for the Islands LGBTQ community, the Isle of Pride team volunteers all year round to provide support, guidance and advice. The charity promotes equality, diversity and inclusion for all, regardless of gender, sexuality, colour, creed or ability. With a particular focus on physical and mental wellbeing, the charities intent is to provide inclusive and safe spaces to allow people to be themselves.  The founding principles are: Pride, Respect, Inclusion, Diversity, Equality
The 2nd Isle of Pride Festival took place on Saturday 13th August 2022. Following a march along Douglas promenade with a 50-metre rainbow flag, the main event was held in the Villa Marina Gardens and featured family activities, food vendors, an Extra Fancy bar and a range of entertainment including a silent disco. The event was free to all and over 12,000 people attended.
While this event was a fantastic display of support for the LGBT community, sadly, it is not always possible for members of the community to be 'out and proud'.
History of Pride
Homosexuality is not a new thing, but it has often been repressed throughout societies and cultures for various reasons. The first anti-gay law (punishable by death) was passed in the UK in 1533 during the reign of Henry VII. This death penalty was not abolished until 1861 and homosexuality is still punishable by death in several jurisdictions today.
Whilst there are many notable examples of groups attempting to challenge the repression of LGBTQ rights, the Stonewall Riots of 1969 marked a turning point in the gay civil rights movement and form the origins of today's Pride celebrations. Christopher Street Liberation Day on June 28, 1970, marked the first anniversary of the Stonewall riots with a march, which was the first Gay Pride march in New York history.
The next year, Gay Pride marches took place in Boston, Dallas, Milwaukee, London, Paris, West Berlin, and Stockholm, and the movement grew from there. June is now widely recognised as pride month in the UK, although this varies internationally.
The Pride movement has come a long way in the last few decades and is seen as a celebration of the battles that have been won to gain freedom of LGBTQ rights across the globe, but those battles are far from over. Anti-gay laws are still in effect in 35 out of the 56 commonwealth nations and many other countries across the globe.
Sadly,  the Isle of Pride charity has since decided to wind up the organisation. I am grateful to have had the opportunity to support them and thankful to PDMS for the opportunity to take time out to work with this great charity. 
Topics
Community
Volunteering
Isle of Man
Social Value