The Big Splash Dolphin by Hannah Wild
Insight
Published on 04 August 2022
The Big Splash is a dolphin-themed sculpture hunt that was launched by Hospice Isle of Man in May 2022.
Artists were invited to create a design, which if chosen, they would be able to paint on a dolphin sculpture. The winning designs are then located all around the Island in a 12-week trail for everyone to discover using an app and raising money for Hospice Isle of Man.
Creating my design
Being a keen artist, I have always enjoyed painting and creating visual content. When I read about The Big Splash, I challenged myself to submit a design and decided to base it on local bird life. The birds I chose to use in my design can be seen across the Island. Some are more well-known than others including herons, puffins, gulls, loons, gannets, shearwaters and too many more to mention (or try to include on one dolphin sculpture!).
I submitted my design and honestly did not expect anything to come of it, so I tried not to get too excited. However, I was delighted to hear that my submission was one of 60 designs (out of over 120) that had been shortlisted for sponsors to select from. Thankfully I didn't have too long to wait before the big news was revealed: my concept had been selected by one of the main Partner Sponsors, The Mannin Hotel. I was blown away that I had been chosen over so many other amazing designs. In total, 31 incredible designs from both Isle of Man and UK artists were selected to be brought to life.
Painting my sculpture
I decided to join a group of local artists at the SCS Services warehouse in Ballannette Nature Reserve to paint my dolphin. Once they confirmed the sculptures had been delivered, I raced up there to see him in person - and realise the sheer amount work I had ahead of me to get 'Bird Life' finished in time for the deadline of mid-March!
PDMS has always been very supportive of volunteering and charity work is actively encouraged - The Big Splash being no exception. Mostly painting in my spare time of evenings and weekends, I was very fortunate to use two days volunteering time, supported by PDMS, to spend some dedicated time progressing my painting.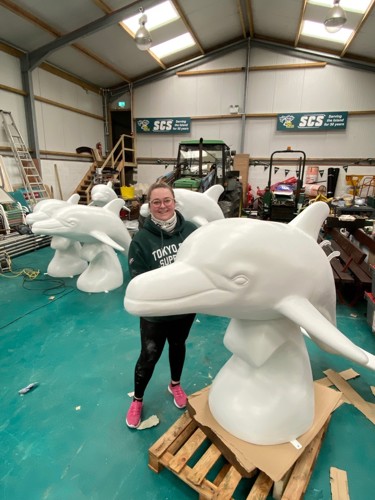 Hannah Shaw with her blank dolphin sculpture before painting began
Dolphins on location
Once finished, the dolphin sculptures were collected, varnished and kept in a secret location until The Big Splash was launched for the public on the 27th May 2022.  When I say 'secret location' I mean even the artists didn't know where their pieces were going to end up!  
My piece 'Bird Life' has now taken up residence at Cornaa Beach, a scenic shore location on the island. The Island schools and educational groups were also involved, with an additional 43 dolphin calf sculptures across the Island, making a total of 71 large and small dolphins to discover.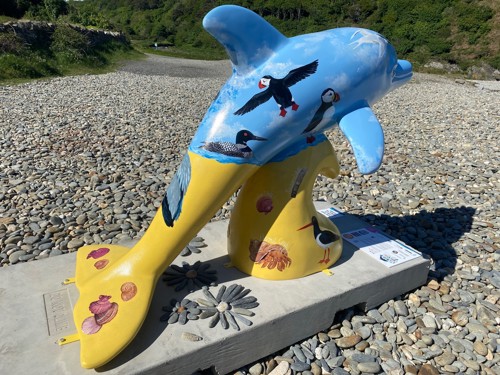 About the Big Splash Art Trail
Part of Wild in Art, the Big Splash Art Trail was created to bring together local businesses, creative sectors, and schools. The aim is to celebrate the community, the creativity of the Island, and marine environment and encourage people to explore the Island. None of this would be possible without the support of generous local businesses.
The 'Big Splash' follows on from the success of the 'Wallabies Gone Wild' art trail in 2019. Later this year, all dolphins from The Big Splash will be auctioned off raising money for the Hospice Isle of Man's End of Life and Palliative Care Services. I'm looking forward to seeing how much Bird Life raises!
In conclusion
This was an incredible experience for me, and I feel very lucky to be involved in such a creative fundraising event. There have been so many fantastic photos and comments made about Bird Life from members of the public who have ventured out to visit him. I'm looking forward to seeing the pod back together one more time for the auction in October.  
Hannah Shaw with her 'Bird Life' sculpture on Cornaa Beach
Topics
Community
Isle of Man
Our People