Supercharging your content strategy in 2021 and beyond
Insight
Published on 20 April 2021
The past fourteen months have seen a systemic shift in the way 'normal' life is lived.
Who would have thought in 2019, we would be spending even more time online, socialising online, and even holding board meetings online? We are now even more reliant on the internet, presenting an opportunity for marketers to reconsider their digital presence.
In the words of leading content marketer Kristina Halvorson, content marketing can be defined as the 'creation, publication and governance of useful, useable content.' To create a useful content strategy, it is important to think through internal and external inputs to your company, which will include goals, who you want to reach, resources, budgets and how success will be measured.
Once your content strategy is underway, you need to consider how to make the most of the great digital content you are producing.
Read on to learn my five top tips for tools to boost your content in 2021 and beyond.
1. Social meta tags
Often overlooked, meta tags are very useful at helping to get your content 'found' on social media. They help to ensure that when a link to a website is added to a social media post, an image, description and context are added in automatically.  
The examples below show the difference they make to social media posts:

vs.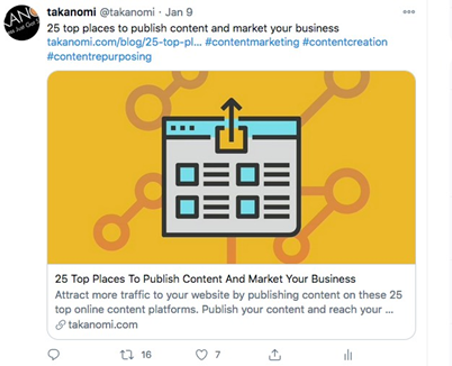 Source: Takanomi
In addition to metatags improving SEO, they also make social media posts look more engaging. Engaging posts are more likely to be clicked on and shared, which in turn will drive more website traffic. As a marketer, it also ensures your social channels look consistent and engaging.
To add meta tags to your website there might be some website development needed. It's not a big job for the right person to do and well worth the investment  - giving the content editor much more control.   
2. Social media backlinking
A social media backlink is a link accompanying a social media post directing people to your company's website. The quality and number of backlinks play a major part in the algorithms search engines use to determine the authenticity of a website.
It is well-known that a correctly executed social media post must include a link to your website, an image, context about the link, and, if appropriate, hashtagging. Social media posts help to contribute to your website's referral and direct traffic. The traffic to your website from social media is generally deemed by search engines to be high-quality content and engaged users – all of which contributes positively to your google ranking.
 A study by SEMrush shows that Google places an emphasis on the quality of links. 
Places to add backlinks include the obvious:
Social posts – ensure that every post is accompanied by a link to your website for your followers to use.
And the less obvious:
Profile – in the 'about' section in your social channels always ensure there is a link to your website;
Cover photo – think about adding text and/or your URL to your cover photo;
Your page button – Facebook allows companies to add a link under your cover photos.
Source: hubdigitalmarketing.com
Of course, backlinks can also have a very positive impact on your website when they come from other relevant sources such as blogs, comments, forums, discussion boards, apps and well-established corporate or government websites.
A good starting point is to explore your Google Analytics and try to understand where your backlinks (also known as referrals) are coming from and explore potential new sources of backlinking and partnership.
3. Social sharing
Social shares pack a big punch compared to 'paid for' advertising. They represent an endorsement of your product/blog post/job vacancy etc. and are completely organic. There is also a very good chance that your employees have more connections than the number of followers on your corporate page.
Sitting hand in hand with social sharing is employee activation where employees become ambassadors for your company. With engagement from employers, employees become more likely to share company content, creating genuine believable 'human' interactions.
Explore how you can activate your employees, the pandemic has provided opportunities for businesses to engage with their staff like never before.    
4. Guest blogging
An under-used tactic of helping to boost website traffic and website referrals is using 'guest blogging'. There are opportunities for businesses to contribute content for relevant websites or professional networks, usually published content will include a link back to your corporate website. An alternative approach is to invite guest bloggers to contribute to content for your corporate website, the guest bloggers are then likely to share a link to your website with their work on it, driving traffic.
Before embarking on a guest blogging strategy, it is important to identify what the goal is:
Positioning yourself as an authority and well-known name in the industry;
Getting exposure (traffic) back to your website;
Building backlinks to your website (although this should never be the main focus, as Google frowns on this).
(source Neil Patel)
Opportunities to contribute to a guest blog are more frequent than you would think – professional organisations are often looking for experts to contribute. They can easily be found by a search or exploring opportunities on social media. Likewise, you can advertise on social media that you are looking for guests to blog on a particular subject.
5. Browser push notifications
Somewhat the 'new kid on the block', push notifications present an opportunity for businesses to send real-time notifications to those who have opted in to receive them, without needing for them to be on the website. They present a cost-effective approach to send notifications in comparison to building an app and can be used for promotional purposes or o provide real-time updates on for example an order that has been placed.
Evidence from SEMrush shows that push notifications have an 80% market reach and click-through rates of approximately seven times higher than email marketing.

(example of a push notification)
To receive push notifications, website users must consent to receive notifications – this means that from a GDPR perspective they have 'opted in.' There are a few key things to remember with push notifications – they are delivered in 'real time' even if the browser is closed, so it is important to ensure that your audience is correctly segmented; also ensure that they are not used too often to prevent them from feeling spammy.
Push notifications represent an easy way to interact with consumers without great technical development. To implement push notifications, a website must be HTTPS compatible – and depending on your CMS should be quite easy to implement with your website partner and can be especially valuable in conjunction if your website has user accounts.
Watch this space for my follow-up article exploring measuring campaign success.