PDMS to sponsor Empowering Women Programme in Scotland
News
Published on 10 March 2021
The programme is supported by Scotland IS, the Scottish Digital Academy and the Scottish Government, and PDMS joins existing sponsorship partners Sopra Steria and Head Resourcing.
The initiative is designed for emerging and potential women leaders in digital transformation roles in organisations across the public, private and third sectors.
Run by Empowering You, the leadership coaching specialists headed up by tech industry veteran, Steve Cliff, the programme will be running its first cohort through their intensive programme of one-to-one and groups sessions from April through to June, with the nominations to take part having just closed in mid-February.
It is free to attend for all participants to ensure equality and access to all sectors and organisations, as well as guaranteeing that aspirational leaders at all stages in their career journey can take part. Funding for the programme is provided by industry partners such as PDMS who share the programme's aspirations for more diversity and equality in the sector. 
Commenting on the announcement of the partnership, PDMS' Chief Operations Officer Jayne Hartley said:
"Women in leadership roles are underrepresented in technology, not only in Scotland, but globally. Increasing diversity is vitally important and we are delighted that we can support this programme to provide an opportunity for Scotland's women leaders to not only grow professionally, but to also grow their network of professional contacts. To accelerate women in leadership positions in Scotland, programmes such as this which help to develop a culture of mentorship, will deliver enormous value".
Such was the demand, applications to the programme having significantly exceeded available spaces. The Programme Panel, including PDMS Chief Operations Officer Jayne Hartley, ScotlandIS interim-CEO Karen Meechan, Scottish Government's Head of Digital Transformation, Joy Bramfitt-Wanless, and Mags Moore, a senior director with Sopra Steria, will be meeting next week to agree the final participants list ahead of the programme's launch in April.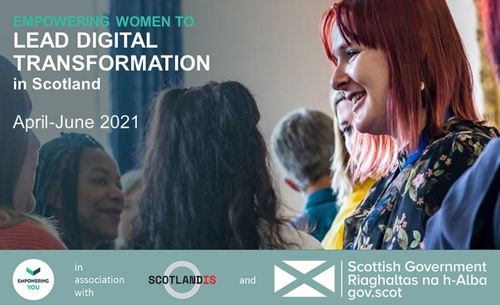 PDMS are committed to equal opportunities for all, no matter your gender, background or age. We look forward to working with this programme to support the leaders of tomorrow and encourage them to be the driving force behind the digital transformation that is developing across all of Scotland's industries. 
Topics
Social Value
Scotland
Digital Transformation