A night to celebrate the Island's inspiring individuals
News
Published on 15 November 2022
The Heroes of Mann Awards
The Heroes of Mann Awards, organised by the charity 'A Little Piece of Hope' was held on Friday night at the Empress Hotel in Douglas. It's an annual event celebrating children's champions in the Isle of Man, recognising inspiring individuals and groups on the Island, who deserve recognition for their achievements and bravery.
Three members of PDMS were delighted to attend, not only be part of the exciting event, but also because we had sponsored the Skies the Limit award to recognise an outstanding young fundraiser.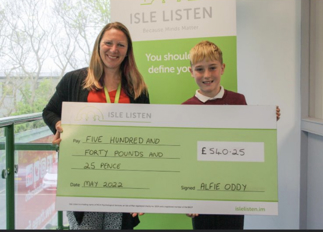 This year the award was deservedly picked up by an inspirational young man who raised a significant amount of money on his own for Isle Listen.  Young Alfie Oddy held a penalty shootout and raffle at his football club, Rushen United FC, earlier this year, to support the work of Isle Listen, a charity whose aim is 'to remove the stigma that surrounds mental health on our island'. It's a charitable initiative that provides much needed mental health support and training to the Isle of Man's schools, workplaces and wider community.
Alfie's commitment resulted in an impressive £540.25 being raised.  
Charlotte, Jude and Barb from PDMS attended the event, and Charlotte Cain, Head of People & Culture at PDMS, said:
We had a great time at the Heroes of Mann awards, it was such a rewarding evening listening to some truly inspirational stories and celebrating some amazing people on the Island- it was wonderful to see them recognised! I was honoured to present the award to Alfie who has done some amazing fundraising for Isle Listen, taking his initiative and interest in football to do something great for others and give back to a charity who helped him. He was very humble about his efforts, but I'm sure what he has done for Isle Listen will have such an impact – he should be very proud of himself. He told me he has more fundraising plans in future which I'd be delighted to see!
On behalf of PDMS, we would like to congratulate everyone who was involved, and good luck for future fundraising endeavours.
Topics
Isle of man
Awards
Social Value