Our Project Managers are the driving force in a dynamic, fast-moving industry: the successful candidate will play a pivotal role in helping deliver world-class software that improves lives in many sectors.
Working as the conduit between our clients and our cross-functional teams of developers, analysts, testers and designers, you'll be a vital facilitator and communicator, leading and shaping the delivery of digital projects and services from day one.
Your previous experience in a software environment will be valued and respected by your colleagues as you collaborate on evolving agile and waterfall projects, embracing the latest tools and techniques and helping to motivate others and remove obstacles to progress.
If you're excited by the thought of leading in a rapidly changing environment and you thrive on helping solve business challenges for high-profile national and international clients, then you could be just the person we're looking for.
Where you fit in
You'll take ownership for multiple projects, ensuring targets for quality, timescales and budgets are met
Within projects you'll monitor progress, assess risks, resolve conflicts, agree priorities and adjust the approach as necessary
Establish strong relationships with clients, facilitating clear communication and collaborating to agree realistic plans, roles and responsibilities. Managing expectations and resolving any conflict diplomatically
Motivate and support the project team: facilitate meetings and interactions, help remove obstacles and identify training needs
Collaborate with clients and the team to agree realistic delivery plans
Prepare viable estimates and project plans for sales and business development
Ensure appropriate project governance, processes and documentation is followed
What we'd like you to bring
Previous experience of project management, PMO or leading teams, preferably in a software environment with experience of waterfall or agile processes
Excellent all-round communication skills
Highly organised and able to plan and prioritise multiple projects and tasks
Passionate about providing great customer experience and service
Understands budgetary processes and can demonstrate good financial judgement
Familiar with Microsoft Office and web-based systems
Prince 2 or other Project Management certification advantageous
Rewards
Competitive salary
Private healthcare & permanent health insurance
Pension
Laptop and subsidised home internet
Support for training and personal development
Employer supported volunteering
Death in service
Employee Benefit Trust
Next steps
Once the role has closed, we will be in touch with you to advise of the next steps and if you are successful we will invite you for an interview.
If you would like more information about the role, please email [email protected]
What our people are up to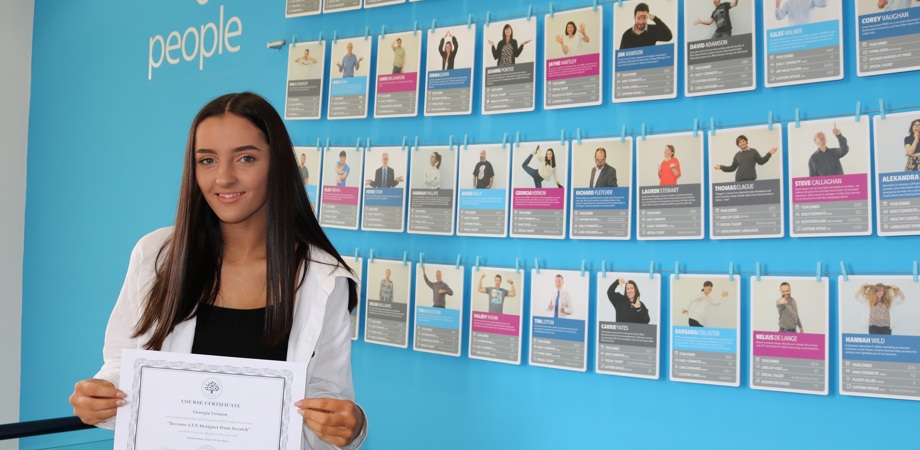 Georgia Vernon, who joined us whilst still studying for her A Levels, explains how she found the career she loves at PDMS. We are very keen to support the development of our home grown, local talent and offer work placements, internships and apprenticeships to those studying both locally and at Universities in the UK.
After nearly 20 years at PDMS Joanne Pontee reflects on lessons she has learnt and relearnt about PDMS over the past year. The global pandemic has flipped our lives upside down, but it's also provided an opportunity to step back and re-evaluate. Find out what discoveries Joanne has made and what she had maybe taken for granted.